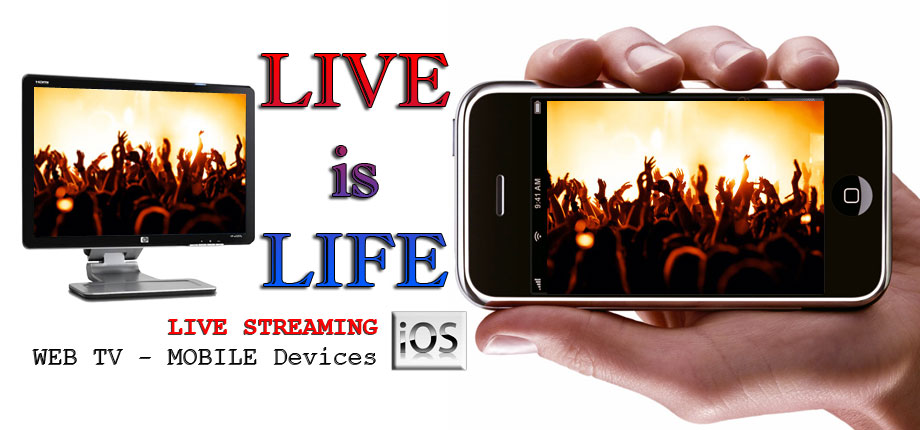 Live Streaming – Web TV
Filothea offers

live video streaming

, video conferencing and webcasting services.
Internet video production is a big part of what we do everyday for businesses, brands and Organizations. Using the very latest video technology we can simultaneously produce LIVE video Stream and record your event.
We can provide a complete video and streaming package, including Video Shooting / Filming services, or can supply technicians and equipment to webcast an existing video feed.
Television has changed

the Internet is the present …and the future!
Benefits of

Live Event Broadcasting
Boost Site Traffic — A compelling live event broadcast differentiates your site, your content and your brand
Lower Costs — Live event broadcasting maximizes return by eliminating expenses like travel, printing and airtime
Deepen Audience Connection — Online live events are inherently more engaging than static content, and personalization features can further extend the virtual connection with each person watching
Improve Comprehension and Retention — An interactive, television-like experience can have a bigger impact than other delivery methods
Expand Your Reach — A web-based live event broadcasts your message globally
Now more people than ever can watch that unforgettable event of yours – not only at home, but on the road as well. Our streaming service allows you to easily reach iPad, iPhone, Android, BlackBerry and other media-capable devices.
LIVE STREAMING
Any time – Any place – Any device
Our webcasting solution looks and feels more like a TV production (without the high cost or catering van). Especially for Sports productions we offer Slo-Motion camera replays and Score Graphics!
We don't need internet connection from the venue. We provide dedicated satellite broadband feed with our SNG OB Vans, all around Europe and Middle East. Our Live Streaming services are 100% secure and can be customised to match your branding and sponsors needs. We can fully brand the video stream to reflect your client's corporate identity and work with you to add any features you may want.
Our engineers develop with the latest technology:
Full service content management

Single to multi-camera video production

Post production to prepare your content for video on demand

LIVE video on Mobiles

and in social media networks -Facebook

Satellite or on-site encoding options for live webcasting

Multi-format encoding services

Multiple streaming rates from 150 Kps to 2 Mbps

Complete technical management including website coordination
Just Streaming Servers
We can work with your existing AV team or provide a complete end-to-end service. If you choose just to use our web streaming service – no problem. We can take a ready mixed live feed from your crew and webcast it directly or mix other sources to tailor the broadcast specifically for the internet.
If we can help any further with your project or idea please do not hesitate to contact us.